Creating email hosting plans
To be able to purchase an email hosting service/account, you will first need to create the plan you wish to allocate to the service/account.  This is done via the Synergy Wholesale Management System.
Our slider-driven tool allows you to easily create completely custom email hosting plans that are tailored to meet the needs of you and your clients.
Once logged in to the Synergy Wholesale Management System, you will be able to create your email hosting plans by following these steps:
Navigate to Email Hosting > Create Email Plan located on the left-hand side of your account
Using the slider-driven tool, select the amount of space you'd like this particular plan to allocate

Toggle on/off the Active Sync add-on if you'd like to have it enabled on the mailbox using this plan

Enter in the name of the plan and click Save Plan or Save and Create if you wish to purchase a new mailbox using this plan immediately
Example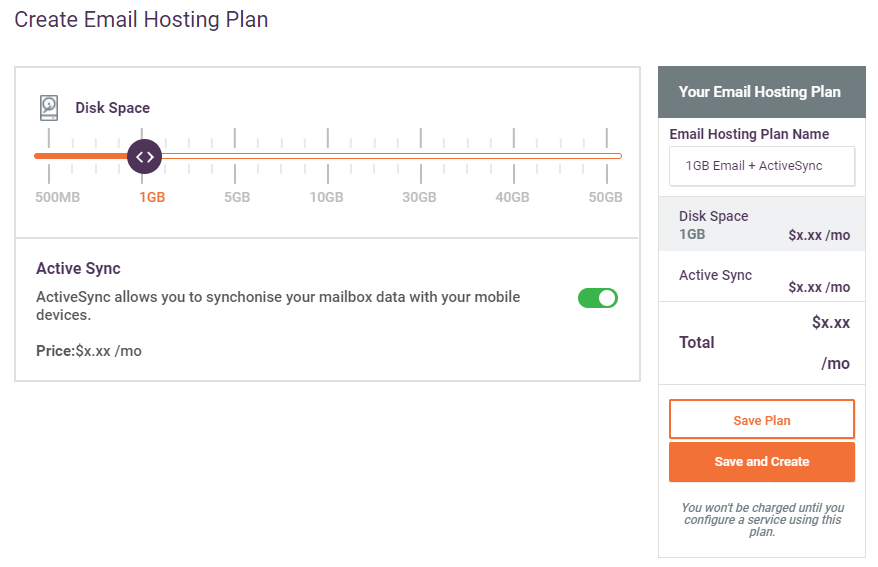 If you need any assistance whilst setting up your email hosting plans, feel free to get in touch with us via a Support Request, Live Chat or over the phone on 03 8399 9483.