Getting to know the interface
Within the Synergy Wholesale System interface, you'll find an amazing array of options. Below you will find a screenshot showing what you'll see upon first login, and below that a list of your menu categories.
Domain Names
This section includes everything to purchase, transfer and renew domain name registrations. Additionally you will find all of the management options to configure options such as name servers, domain privacy, custom DNS and much more.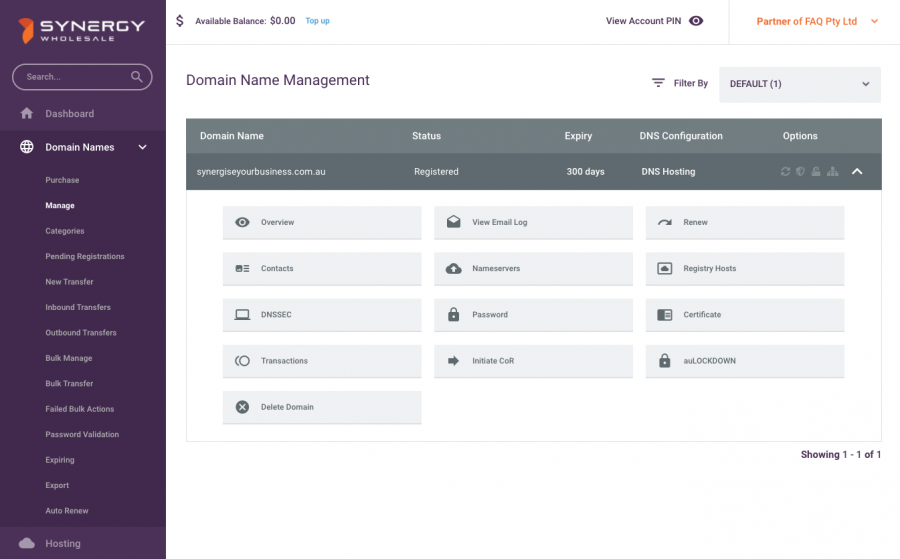 Hosting
Create, Purchase and manage hosting services for yourself and your clients. Active hosting services may be managed through this area allowing you to view service overviews, configure SSH Access and much more.
SSL Certificates
Purchase your new SSL Certificates and view your past orders.
Financial
View and pay your invoices, view past transactions, view your recurring payments, adjust your default payment method and review our pricing table.
Support Centre
Submit new Support Requests and view past ones.
Account Functions

Here you can view your account statistics, API information, statistics and manage your email templates.
Top Right Menu
The blue menu on the top-right is your gateway to managing your account.; providing you with the options to manage your security settings and contact information.
If you need any assistance whilst getting to know our interface, free free to get in touch with us via a Support Request or over the phone on 03 8399 9483.