Managing your hosting services
The Synergy Wholesale Management System is the gateway to managing all of your wholesale services. With the Synergy Wholesale Management System, you can manage all of your services within one location.
We've incorporated all of the tools you may be familiar with from WHM and more within our management system to make your life managing services and domains as simple as possible.
Overview of hosting services
You can get an overview of all of your hosting services with us by navigating to the Synergy Wholesale Management System >>  Hosting >> Manage.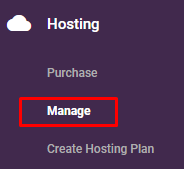 By default, all of your services that are active, suspended or pending cancellation will be listed. You can use the Filter By function to view historical services, such as previously cancelled services.
Management tools for your hosting services
When managing your hosting service within the Synergy Wholesale Management System, you will have access to a range of tools available to you as a partner. You can easily access these tools via the overview of your hosting services as seen below: